Dynamic calligraphy multi-media presentation
Free of charge to groups who book 4 days of workshops. Makes a great evening event for all your guild members and guests. Other bookings may also be discussed: please contact me.

Carrying Tradition in a Digital World

An inspirational presentation incorporating both traditional and avant-garde calligraphy by Denis Brown.
Denis will show a wide range of his recent work, using it to discuss the meaning for him of being a scribe in the twenty-first century. The presentation will include short movies punctuating live discussion. Not to be missed!

Denis becomes one more animated animal amidst enlarged projections of his "Celtic Crittur flourishes" as they have been called in United States!
Requirements:
Digital LCD projector capable of projection from laptop (Apple Mac-book) preferably at full HD 1920 x 1200 pixel resolution, plus HDMI connection and cable. Possible also via lower resolution and VGA cable/connection.
Stereo audio amplifier plus loudspeakers- (good quality PC speakers are acceptable for smaller meeting rooms).
4 large trestle tables or similar for display of artwork and merchandise, to be available for viewing and/or for purchase.
Merchandise:
I bring a range of merchandise to be made available for purchase at workshops & lectures, including DVDs and fine prints, such as those you can browse from the Purchase menu above.
Promotional artwork can be supplied upon request.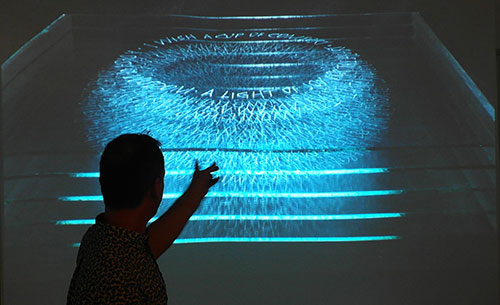 Presenting in front of projected HD video.
Photos of Denis presenting by Vera Evstafieva, Moscow 2015.
Booking & enquiries to:

Please type my e-mail address by hand